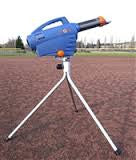 Zooka Air Powered Pitching Machine
NEW PRICING AS OF 2023 -- FREE SHIPPPING ON MACHINE IN LOWER 48
Only Truly Portable Pitching Machine for the Cage or the Field.
Throws Real Baseballs, Dimple Balls, Safety Balls.Whiffle Balls & Tennis Balls
Adjustable from 10 to 70 Mph Digital Speed Read out.
Rechargeable Battery True Portability over 500 Pitches per Charge.
Perfect for Machine Pitch Leagues Complete with Internal Battery, Charger, and Tripod.
Batting Practice, Fly Balls, Defensive Drills Your Imagination Can Find Many Uses on the Field.
Added Feature in the Programming Is the Ability to Create a Change Up Pitch of 5 Mph Slower.
Safety features include no irregular shaped objects, one ball at a time, safety switch turnoff something is in the throwing tube. A security code must be entered each time to turn the machine on.
Two-year Warranty
-------------------------------------------------------
For Younger Players the ZS 720 Has Lower Pitch Release Height and A Few Features Have Been Changed to Reduce Cost.
The for Older Players ZS 740 Has Greater Speed and Range and Can Throw Changeups.
The ZS 740 As a Four-Way Swiveling Tripod for Greater Versatility. The ZS 720 Is Slightly Smaller and Comes Standard with a Shorter Tripod. For a Lower Pitch Release We Recommend Short Tripods for Younger Player.
-------------------------------------------------
The Optional Autoloader Zooka AL-1 Autoloader for All Zooka Pitching Machines
Automatically Loads Real Baseball, Pitching Machine Dimple Balls, or Tennis Balls.
Capacity Is 16 Baseballs.
Conveniently Draws Its Power Directly from the Pitching Machine, to Make Automatic Ball Feeder Part of the Machine.
Making It Ideal for Solo Batting Practice or Use While You're Coaching the Player.