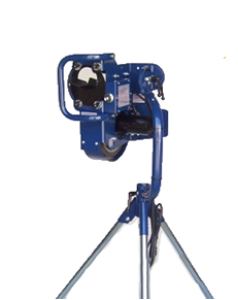 BATA Pitching Machines
   BATA PITCHING MACHINES, made in the USA out of the finest material Completely made it in the USA with American craftsmanship.  BATA machine come in several models to fit each and every need for the player and coach.  Every model comes in Baseball only, Softball only or a Combination machine that can be adjusted to throw either baseballs or softballs.
All BATA machines now have a full 5 year warranty on parts and labor, then the best in the industry a seven year extended warranty automatic with the only added feature in the seven year is customer has the shipping cost. This warranty only extends to the original purchaser and if the warranty card is filled out and sent into BATA (excluding the normal wear and tear on the wheels) (see full warranty below)
Accessories available such as  --  cover, stand, remote control for the Feeder, and replacement parts.
We ship overseas as a service to our clients and convert the BATA machine to the 220 current that is need overseas.
BATA 1
Maximum Speed:
62 mph with leather baseballs or Dimpled Baseballs
Weight 56 lbs.
Runs on 110 AC
Available for Baseball/Softball
May be used with BATA Feeder
10-year warranty
BATA 1 Curveball (most popular for cost and usability.)
Throws- Fastballs--Curveballs---Sliders
Maximum Speed:70 mph with leather baseballs or Dimpled Baseballs
Swivel Base
Weighs just 60 lbs.
10-year warranty
BATA 2 wheel machine
Speed 25-100 mph.
Weight 98 lbs.
Transport Wheels Kit available
Throws real baseballs or dimpled
Throws all types of pitches
Throws grounders and flies
3-way swivel head
May be used with BATA Feeder
10-year warranty
Quick-Release Leg Lock Kit available
Auto Feeder for all machines:
Feeds balls at 6 second intervals
Holds up to 20 baseballs or 15 softballs
Adjustable metal tripod stand
May be used with any BATA machine
Operates off 110 Volt AC
Plug-In Remote On/Off for the feeder
3-year limited warranty
10-Year Warranty
We make great machines, right here in the US. Not just "assembled" in the USA, not a "product of the USA", we really do fabricate and build the entire machine right here. We use US steel, wheels, motors, powder coating, and electronics. So we can offer the industry's longest warranty without concern. Here goes:
In the unlikely event of a failure during the first three years after you buy it new, ship the defective part to the factory (This is easy because our factory isn't overseas, it's right here in the US). We'll replace the defective part with a part that works, most likely a brand new one. Then we'll send you the working part at our own expense.
If it works great for three years (it probably will), but then fails during the next seven years (it probably won't), it's still covered. Everything above remains the same, but you'll need to pay a shipping and handling fee. This is generally somewhere between $40 and $150 depending on what exactly you ship us and where we will be shipping it back.
If it doesn't fail for a decade, perfect, that's exactly what we expected. You are glad you bought a premium quality American made product, and so are we. Please tell your friends.
Where it gets sticky: (the finer points)
We exclude abuse. If it falls out of your pickup truck while you are rolling down the highway, we'll try hard to fix it for you, but at your expense. Sorry about that.
We won't return a part to Zimbabwe at our expense, even during those first 3 years. If you take our excellent machine overseas, and it breaks there, you'll need to pay us for shipping it back to you. Sorry about that.
This warranty excludes normal wear and tear on the wheels. Our wheels are the best wheels on the market, but we expect them to wear out. You should too.
This warranty extends to the original purchaser, so we require a warranty registration. Fount it on E-bay or Craigslist and the warranty is void.
Under no circumstances will we be responsible for more than the cost of the repair.
Thanks!
BATA Baseball