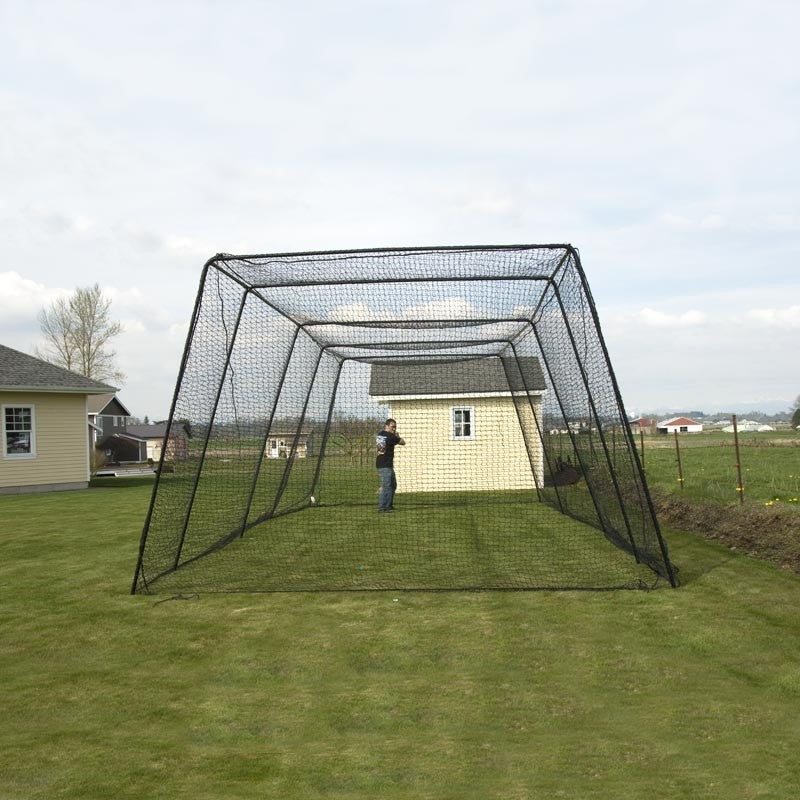 Over the Frame Trapezoid Cage
BATCO is pleased to offer a little more traditional cage that still is extremely easy to set up, stable and will fit on any surface. This cage is built with a metal framework that is trapezoidal in shape 10 foot at the top, 14 foot at the bottom, with a 10 foot height plenty of room to hit. This framework is constructed of 3/4 EMT rigid electrical conduit. (Don't let the size fool you this cages real all the way from college teams, to facilities, high schools, and individuals that want to just put it up and use it)
Home Install in NJ
The netting is nylon netting the same as in the standard batting cages at all schools it comes in three strengths lightweight 18, medium weight number 21, and the standard batting cage weight number 36. All built with rib ropes in the correct places to give you fit that allows the net to hang over the frame with no sag no droop.

Points to consider
Trapezoid Shape
Offers Stability & Large Work Area Shape
Offers 10' H x 10' W at top,14' Batters Area
Net Fitted form for placement over the framework.
Number of 3/4 EMT Rigid Conduit needed.
40 foot 23 poles,
50 foot 28 poles,
60 foot 33 poles,
70 foot 38 poles

An added tip for construction that makes this almost a solid as if you would dug in the ground and installed it there. When you're going to use it outdoors you can get 1/2 inch reinforcement bar in about 2 to 3 foot links and after the cages up go right next to your leg drive it into the ground at the proper angle and pick the leg up and put it over the piece of rebar this creates a bind and extremely stable install. You will be amazed and pleased.  Indoor install, turf, concrete, asphalt, any hard service it comes with rubber caps to go on the end of the poles to give traction.

These have BATCO's personal guarantee if you don't like it after you set it up and used it BATCO will take it back and pay this return shipping. Were that confident in this cage being the best solution for portable, easy to set up easy to take down cage there is. Now I don't want to mislead anybody it still takes about an hour to put it up and take down but it is the easiest install cage around.


When you order the cage you get from us the corner fittings that accept the poles and tighten down securely.
You get the nylon net in the weight that you chose in the trapezoidal shape to go over the frame.
You're going to create a frame that has frames every 10 feet, and line poles down the cage to give it stability

We can provide the poles with delivery from your local Lowe's or Home Depot, or you can choose to say the ship/delivery fee and purchase the poles locally yourself saving some money,

Please take a look at the pictures and select the option that fits your needs the best.