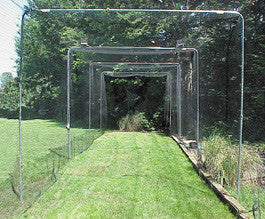 Batting Cage Frames
In Ground Batting Cage Frame  --  Standard In the Ground Batting Cage Frame

Complete and ready to install all piece except the holes
Frame width--- 13 foot wide for a 12 foot wide batting cage or 15 foot wide for a 14 foot wide cage.
This gives you a clean and tight cage once it's installed
This is the frame that is most commonly used in batting cages you see around schools and parks.
It Comes complete with:
1 5/8 galvanized 14 gauge tubing horizontal poles,
1 5/8 galvanized 14 gauge tubing vertical poles,
1 5/8 galvanized 14 gauge tubing elbows, and ground sleeves.
We recommend that you concrete the ground sleeves into the ground.
Comes with 4 ribs for a 55 foot cage, or 5 ribs for a 70 foot cage

Order the optional cable kit separately to give that finishing look.
Ultimate Frame for Batting Cages
In-Ground frames are 2" square, heavy duty galvanized steel tubing in the ground.
Kits come in 3 frame and 4 frame models. Galvanized finish no rusting or peeling
You can be spaced frame sections to fit your net and space requirements.
Cable system for ease of net hanging and take-down in a unique serpentine style.
Wire cable feeds back & forth across top of frame and attaches to a manual winch.
Frames are pre-drilled for 14' wide nets. 12ft wide applications must be re-drilled on site. Frame dimensions after installation are approx. 11' high x 16' wide
Nets are sold separately. 
Complete hardware kit includes: vertical upright poles, horizontal cross member, ground sleeves, cable, clamps, eye-bolts turnbuckles and snap rings
Deluxe Commercial Cage Kit
 Three strong cables going the length of the frame to support the batting cage along it arches.
Concreted Ground sleeves into the ground provide strength
Elbows and ground sleeves are made in America. Arch supports are 14 gauge 2¼"steel at each end of the frame to make the frame rigid Elbows and ground sleeves are made in America

When purchasing frame kit, you will need to purchase vertical and horizontal poles separately and locally.  They are not part of the kit.  You will need:

2" EMT Tubing - 9 Pieces for 55ftcage or 15 pieces for a 70 ft cage separately recommended Lowes Sku # - 72721  or Home Depot Sku # - 580031 Due to shipping costs, purchasing your poles locally will save you money!

You receive in your kit:
High quality, commercial grade 2¼" steel tubing
Elbows and ground sleeves fluted for easy assembly
Angled frame support bars add extra rigidity
Net suspends from cables spanning the arches
Can fit either 12' or 14' wide nets
We recommend you concrete the arches in-ground with the provided ground sleeves.
Cable Kit to Hang Cage
Build-it-yourself batting cage with this system to hang the batting cage.
Suspend the net from your own custom frame, or to create an indoor net suspension system wall-to-wall. Use our cable kits 
Attach your batting cage to the cables with the carabiners provided.
Cut-to-Length 1/8" Cables  Carabiners 6 Turnbuckles 6 Small U-Bolts make up the Cable Kit