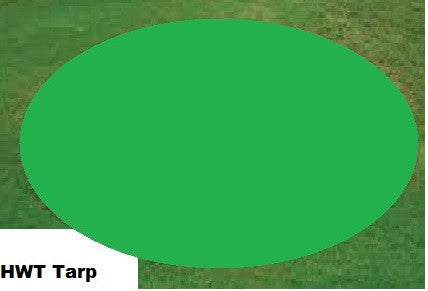 Field Tarps

Baseball Protective tarps for the field.
Round spot tarps are normally used on the pitchers mound and at home plate.
Rectangular tarps are used around the bases and in the bullpen area.
All Baseball sport tarps are 18 ounce treated vinyl.

Full Field Tarps are 6oz Poly tarp

The weighted tarps HWT have a weight sewn into the hem with double stitch.
This allows the tarp to be laid down with no stakes or weights it it will be there and you get back.
This is a tough product with a three-year warranty. 
It comes in the standard tarp configuration (no weighted hem) with grommets every 36 inches for stakes or can be weighted down. Same 18 ounce material. Stakes are included with the Standard tarp.
Color choices are available, prices are shown only for the green and royal blue but no additional cost for colors.
Please call for color choices other than green or royal blue. OTHER COLORS AVAILABLE CALL
Printing and logo work is available please call.  Custom shapes and sizes are always welcome, and we can do the them.
Heavy weighted Vinyl cover warranty 3-year pro-rated warranty.