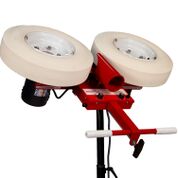 1st Pitch -- Pitching Machines
BATCO is happy to introduce new pitching machine made right here in the United States 1st  Pitch pitching machines. They also make cricket bowlers, football throwers along with the baseball and softball pitching machines allow me to introduce the 5 most popular models of a machine that will do exactly what you want when you want it.  Feeder and transporter available.
Curveball

The First Pitch Curveball pitching machine throws curveballs, breaking balls and fastballs at speeds up to 105 mph.  Our First Pitch 2-Wheel Curveball Pitching Machine is a heavy duty machine that can throw multiple types of pitches, Throws dimple balls or traditional stitched balls. This machine is available in a baseball model or a 12" softball model. Or choose the Curveball combo machine to throw baseballs and 11" and 12" softballs with one machine.

Features of the Curveball Machine
•    Up To 105 MPH
•    360 Swivel Base
•    Two 1/3 HP motors
•    Adjustable Legs
•    Pitches, Ground Balls and Pop Flies
•    Available for Baseball, Softball, or Both
•    Five Year Warranty
•    Throws Multiple pitches including,
    Curveballs
     Sliders
     Knuckleballs
     Fastballs
     Tailing Fastballs
    Sidearm curves.
=======================================
 Ace

The Ace is the newest addition to our professional line of Baseball and Softball training machines. It has been carefully designed to pack all the premium features into a lightweight machine weighing just 62 pounds fully assembled.  This revolutionary design offers the unique ability to throw overhand (backspin) or underhand (topspin) pitches. This feature allows your players to train with realistic pitches and infield grounders. It also tips all the way back, and swivels for fielding practice. The Ace is crafted out of light weight, durable aluminum and steel.
Features of the First Pitch Ace

•    Overhand or Underhand Pitches
•    Up to 80 MPH
•    Baseball and Softball
•    Pitches, Ground Balls, and Pop Flies
•    360 Swivel
•    4 Different Height Positions
•    No Tools Required
•    1/3 HP Motor
•    Contoured Skid Plate
•    Five Year Warranty
=================================
Original

The First Pitch Original Baseball/Softball machine is the ideal machine for batting cages and machine pitch leagues. A heavy duty machine, the Original features our 1/3 HP motor and throws up to 80 MPH. It throws baseballs and 11" or 12" softballs, and is compatible with real baseballs and softballs, or pitching machine balls.

Original Features

•    Up to 80 MPH
•    Available for Baseballs, Softballs, or Both
•    1/3 HP Motor
•    No Tools Required
•    Real Balls, or Pitching Machine Balls
•    Light Weight Aluminum (60 Lbs)
•    Five Year Warranty  
============================
Baseline
 
The Baseline Baseball/Softball Pitching Machine is a great choice for your back yard batting cage or coaching your youth Baseball or Softball team. The Baseline features a swivel base, reversible legs for baseball and softball, and throws up to 70 MPH. It is built with the same high quality construction and versatility of other First Pitch models in a smaller, easy-to-transport package.

First Pitch Baseline Pitching Machine Features
•    Baseball and Softball
•    Pitches, Ground balls, and Pop files
•    Up to 70 MPH
•    1/4 HP Motor
•    Adjustable Legs
•    Light Weight (50 lbs)
•    No Tools Required
•    Full Size Pitching Machine Tire
•    Five Year Warranty
==================================
Relief Pitcher

The First Pitch Relief Pitcher Is our most portable Pitching machine. With a top speed of 45 mph for baseball and 40 mph for 11" or 12" softballs it's a great choice for young athletes.

Features
•    Up to 45 MPH
•    Baseball and Softball
•    Light Weight (30 lbs.)
•    No Tools Required
•    Adjustable Legs
•    Throws Real Balls (Pitching Machine Balls Recommended)
•    One Year Warranty
========================================